Robert G. Baldwin, Jr. was born in Mount Vernon, NY, the second of four children to Robert G. Baldwin and Addie-Viola Baldwin.
Dad learned of the 'perfect-pitch' ear of the Jr. Baldwin. He's sit his son in the room, play a note and Bob Jr. would call it out while reading Charlie Brown paperbacks, much to the shock of his friends.

Two years later, he began to take Classical Music lessons formally, while being taught Jazz by his father at home. He also went to gigs with his dad and watched him 'do his thing' on the piano!
The Baldwins moved to Peekskill (Cortlandt Manor), NY. Bob learned his first jazz tune, "Satin Doll", by the great Duke Ellington.

Jr. was also amazed by the keyboard wizardry of the incredible Oscar Peterson, one of his father's favorites. Jr. was fascinated by his dad's ability to play Peterson at 1/2 speed, studied his piano solos, and took notes.

They also integrated the neighborhood.

Sr. and Jr. BB had the honor of visiting Art Davis (Bassist for John Coltrane). They were good friends and worked often around Westchester County.

Upon meeting that afternoon, Jr. met Jazz Drummer legend Max Roach, and his dad, Roach and Davis jammed together in the Davis living room....so cool!
OCTOBER - Robert G. Baldwin, Sr. suffered tragedy from an operation and was unable to play music from that day forth.

The affect on the Jr. Baldwin was devastating and he contemplated quitting music. During that down time, his dad encouraged him to, "Don't give up".




On his first day job, a supermarket job at age 15 due to dad's illness, Robert was called "Bob". With the exception of mom, the name stuck!!
Bob had a high school friend, Mark Johnson, who attended Geneva College, and after visiting the school in Beaver Falls, Pa., Bob applied for school and began his studies in Accounting Later that year, he fell in love with broadcasting and had a Sunday night show at WGEV, where he played George Duke, Quincy Jones, Patti Austin and George Benson.
BB joined a Gospel music group at Geneva to get him back into practicing and playing music again. The choir had the opportunity to open up for the legendary Hawkins Family. "Watching Tramaine Hawkins sing "Change" blew me completely away. That concert moved me to stay with music because I watched how music moved people's spiritual emotions". THE SPARK WAS BACK!
On an Accounting note, BB kicked Accounting to the curb and switched his major to Business Administration. "Cost Accounting kicked my butt!"
Baldwin was fired by the local steak restaurant for stealing fries. "I was hungry and they had the best potatoes in town, however, the boss wasn't so forgiving". That was the turning point for his studies in Beaver Falls, Pa.
Running quickly out of College money, BB packed his bags and headed back to NY and started an internship with WBLS/WLIB in NY. He had the honor to watch the great Frankie Crocker briefly in his hey-day, as well as other great NY radio legends, Kenny Webb, Sergio Dean and Pat Prescott.
Baldwin landed a job at WINS News pulling news copy and performing copywriting duties, but within a week of his hiring, the entire News Staff and Broadcasters went on strike! Baldwin's 1010-WINS run was cut short as he learned at the age of 20 about crossing the "picket line"....bad move.

Bob rethought the radio career and began focusing on the music, between going to school part-time.
Bob re-thinks the radio career and starts focusing on the music between going to school part-time.
BB quit his part-time job at the insurance company and put part-time school on hold to pursue his dream of doing gigs full-time.

Many mistakes were made, beginning with being owed gig money from a popular jazz artist, whom will remain nameless. Baldwin lost airfare reimbursement, food per-diem and Fender Rhodes freight.

He called a girlfriend to get a $200.00 Western Union in order to purchase a return flight home, along with his 100lb Fender Rhodes.

Within 2 weeks, Baldwin re-enrolled in College. The fantasy had ended....back to the drawing board. On that trip, however, he met saxophonist

Marion Meadows

. Both artists were unsigned at the time. A lifetime friendship has ensued since.
BB's had his first recorded sideman session with Melba Moore, Freddie Jackson and Vaneese Thomas in New York City as a Keyboardist and Programmer on the Hush Recording Label (Charles Huggins).
BB formed The Bob Baldwin/Al Orlo Project, a local group in New Rochelle, NY. The goal was to showcase original material using a hot NY-Based rhythm section, which at times included Dave Weckl (Chick Corea), Fred Vigdor (AWB), Joel Rosenblatt (Spyro Gyra), and Bryan Doherty (The Silos).

The ensemble earned an opening spot for trumpeter Tom Browne at the the legendary Bottom Line in New York City, leading to the keyboardist's first production (Browne's "Funkin' for Jamaica").

The club, owned by Mr. Vinny Pastore, was closed down as Vinny goes on to pursue...acting! He later landed his debut acting gig with "The Sopranos".


Baldwin worked with James "Crab" Robinson on the Tabu label. Crab replaced Luther Vandross in the group "Change" before going solo.

During a Crab session, BB met Najee, who played a solo on Crab's record, written by Baldwin.
Through Browne, Baldwin meets Producer Danny Weiss and Dave Wilkes of Delta Music, and debuts his Production and Arranging talents on Tom Browne's No Longer I album.
BB begins to crank out sessions in the evening after working during the day. "Many a night was slept on the studio couch before going back to work."
This led to his Production deal with Malaco Records. I've Got a Long Way To Go, featured Saxophonists Nelson Rangell and Fred Vigdor.
Marion Meadows also begins recording that year and both do some dates together in NY and Ct.
Picture was taken from Dad from the 1960's.
While sitting on the day job one afternoon, Baldwin receives a call from the staff of the Sony Innovators Award, and courtesy of Roberta Flack, he emerges victorious amongst 300+ applicants. This award receives great media attention, and eventually, it led to the signing at Atlantic Jazz Records under then-President Sylvia Rhone, with Weiss co-producing the project.
Labelmates included Gerald Albright, Paul Jackson, Jr., Bobby Lyle and Hiram Bullock.
Baldwin released his debut solo CD, Rejoice on Atlantic Jazz Records, which featured Lenny White, Tom Browne, Sharon Bryant (Of Atlantic Starr) and others.
Baldwin meets Baritonist Will Downing at a benefit for Drummer Yogi Horton in NYC.
Yogi was Luther Vandross' drummer.
Baldwin co-pens "She" on Downing's A Dream Fulfilled CD. (Top 10 Billboard Jazz Charts).
Bob's mom, Viola Baldwin completes college at the age of 60, after 10 years of evening college at Mercy College.

Literally one day following the celebration of Mom's college degree on 2/19/91, tragedy struck the Baldwin's as Bob's only brother, William Baldwin was killed in a car accident going back to college. He was 19 years old.
Baldwin gets a phone call from one of his childhood idols, the great saxophonist Grover Washington, Jr.. They both work together on his first Self-Produced CD, Reflections of Love (#5 Billboard Contemporary Jazz), which also featured Will Downing, Marion Meadows, and Atlantic Starr Vocalist Porter Carroll.
The title and the album is dedicated to his brother, William Arthur Baldwin.
Later in the year, he teamed up with Washington, producing a song on his album, Next Exit, which featured Levi Stubbs and The Four Tops. "Reflections Of Love" peaked at #7 while at the same time, Washington's Next Exit peaked at #5, and Marion Meadows' Keep It Right There.
There was sitting at #7, Baldwin teamed up with Meadows, with Downing and produced "Come Back To Me", which was a big hit for both artists in 1992 and 1993.
The cover was shot by Rod Taylor. Rod was inspired as a teen-ager by Bob's dad, an wonderful Photographer himself.
Baldwin enjoyed a brief collaborative stint with Pieces of A Dream while pianist James Lloyd took a short sabbatical.
Upon Lloyd's return, he had the chance to team up with him on a couple of shows together, which was a personal thrill.
He also produced two songs on the In Flight CD on Blue Note Records (Billboard Jazz Top 20). Baldwin also recorded a CD entitled, State of Mind, which to date was never released.
Baldwin leaves the Big Apple (N.Y.) and heads down I95 to Atlanta, Ga.
His playing days are far from over as he begins a new recording and goes on the road with Marion Meadows for a period extending 4 years with a few dates in between with Will Downing.
Baldwin produced Meadows, "Body Rhythm" CD, which went Top 20 on the Billboard Jazz and top 20 Radio Charts.
Baldwin and Meadows also Co-Headline the Asbury Jazz Festival in front of 20,000+ fans. That concert featured an impromptu version of "People Make The World Go Round", of which it was embraced by the South Jersey audience, and that song became a staple in the Baldwin repertoire.
Baldwin began to study the accounting piece of the royalty process and was enlightened.
He then produced a record out of personal modest funds, his first independent CD called, City Sketches I / Welcome To The Games. He pulled in a few favors, such as Rohn Lawrence and Meadows.
City Sketches was a musical tribute to Atlanta, Ga. Over 10,000 units were sold on the Internet and Live Venue Sales. Frequent visits to the Post Office forced him to buy a Pitney Bowes mail machine.
He also incorporates City Sketches, Inc., based out of Atlanta, Ga., and also launched his website www.CitySketches.com, and became one of the first Jazz Artists to sell CD's online on a secured server. Some of the music to City Sketches was later used during the 1996 Olympics, also held in Atlanta, Ga.
Baldwin signs a one-shot deal with Shanachie Records, under old producer-mate Danny Weiss.
Baldwin produces and releases, Cool Breeze (Top 30/Billboard Contemporary Jazz), on Shanachie Records. The CD features the song "Summer Breeze," (Top 20/Smooth jazz radio charts) with Meadows, and guitarist Larry Coryell. Shortly after the release, Baldwin does a few gigs with Chuck Loeb.
Baldwin teams up with Will Downing on the road and does a series of concerts together, which include the Essence Music Festival, The Newport Jazz Festival and the Benson and the 10-city Hedges Music Festival. Group included Albright, Phil Perry and Vesta Williams.
Baldwin acquires a modest sum of investment funding, signs a Distribution Deal with Orpheus Records/EMI and completes his second independent CD, Bobbaldwin.com, on City Sketches, Inc.
The CD peaked at #13 on Billboard Jazz. The innovator's remake of Tom Browne's "Funkin' for Jamaica" won rave reviews, while his CD distributes through the Virgin/EMI network. He also launched his new site, www.BobBaldwin.com and triples his internet hits count in less than 6 months, cross-marketing the title with his site.
Baldwin is supported by Vaneese Thomas, Eric Essix, Gerald Albright, Dean James and along with long-time supporters Browne, Meadows, and Downing.
Baldwin wrote and played two songs on the All The Man You Need CD, which earned a nomination for Grammy for best Tradition R&B.
His records from 2000 through currnet were engineered by Dennis Johnson, who's contribution was invaluable.
Baldwin makes a trip to South Africa and meets Vusi Khamalo and they develop a long-distance musical friendship. Vusi also bails out the Baldwin/Marion Meadows date there by sub-contracting a South African-based band to do the gigs.
Baldwin signs a one-year deal with Narada Music and starts recording "Standing Tall." He begins to develop his Bob Baldwin and Friends Tour Package, which featured Tom Browne, Marion Meadows, Phil Perry and Chuck Loeb.
9/11/01 - Shortly after the World Trade Center tragedy, Baldwin penned and released, "God Bless America", which was played in N.Y.C. This led to the Bob Baldwin Presents The American Spirit CD in May, 2002 as a tribute to those victims, killed in the twin towers tragedy.
His musical offering was shared on several Fox TV stations and made a brief appearance on BET. Baldwin also released his CD, Standing Tall (Billboard Top 10) in September, which jumped out of the Billboard box at #10 during its first week on the radio airplay charts.
Both releases featured Chuck Loeb, Ray Vega, Dean James, Kim Waters, Marion Meadows, Phil Perry and Chieli Minucci. He also worked with percussionist Cafe Da-Silva from Brazil, where his musical interests in Brazilian Jazz began to peak. The Way She Looked At Me" was #9 most played CD in the Smooth Jazz genre in 2003.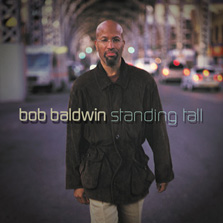 Baldwin teams up with R&B crooner Freddie Jackson and produces Jackson's new single, "Natural Thing," in anticipation of a Spring 2004 release.
He also signs to A440 Music and travels to Rio De Janeiro and Ipanema, Brazil to start his upcoming recording and forever gains a better understanding of Bossa-Nova, Samba, Partido-Alto and Chorinho styles. During his Brazil recording, "The Way She Looked At Me" was the 9th most played song in the Contemporary Jazz Format for the entire year. Baldwin begins featuring Jeff Kashiwa, Doc Powell, Phil Perry and Chieli Minucci on the Bob Baldwin and Friends Tour Package.
Baldwin makes his debut on the A440 Music Group Label and releases his 9th CD, Brazil Chill, where he fuses Brazil with Contemporary Jazz. It features Cafe, Torcuato Mariano, Azimuth and Leo Gandleman. He also teams up with Saxophonist Jeff Kashiwa, who also makes an appearance on the new CD. The overflow of music creates 2 CD's, the first to be released March 2004 with the follow-up sometime in 2005-2006.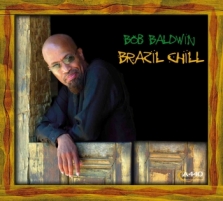 In September, 2004, Bob received the SESAC music award for his CD, "Standing Tall" and in particular, "The Way She Looked At Me", which peaked at #3 Billboard Contemporary Jazz.
Baldwin is hired as a Consultant at WJSJ - Jacksonville, Fl. where he increased their Website hits by 100% and listener-ship by 25% within 12 weeks. As Music Director, BB started to reach out to label contacts in lieu of new discs and calls Dave Chackler on 215 Records and establishes a relationship with the label.
It was at WJSJ where he began to develop the "NewUrbanJazz" sound.
In Spring, 2005, a440 files bankruptcy. On the label trail again. Baldwin reaches out to Mr. Chackler and signs shortly after on 215 Music.
In summer of '05, Baldwin produces the Croton Point Music Festival in Croton NY, where he worked with Phil Perry, Marion Meadows, Stephanie Mills and Pieces of a Dream. The venue attracted over 7,000 music fans.
Later that year, Baldwin travels to Bermuda to launch the first ever smooth Jazz station in Bermuda and does the Morning-Drive host. The station gains popularity in a short period of time and Baldwin develops a contemporary jazz music scene at Snorkel Park, a series he helped to cultivate. During that year, "All In a Day's Work" is launched, his 10th CD overall. The "NewUrbanJazz" sound is also cultivated in Bermuda.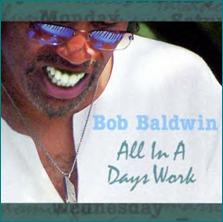 BB continues to develop his DVD project, which is near completion...another out-of-pocket experience.
Narada goes out of business and dissolves into Blue Note. Baldwin dodges another label bullet but only for a few weeks as 215 Records goes under.
Through the a440 and 215 label meltdowns, CSI picks up the master rights to some of his previous recordings and re-releases them on Nu-Groove Records, also owned by Dave Chackler.
BB's is hired at the Music Consultant at WCLK radio in Atlanta, where he is also assigned the responsibility of festival organizer at the Centennial Park's Wednesday WindDown. He develops a lineup which is as indicative as the city's great culture. He further develops the sound "NewUrbanJazz".
Releases his first disc, "Memoirs of the Hudson" 10 miles from his NY Home. "The Sanctioned Bootleg" is the audio version of the live DVD.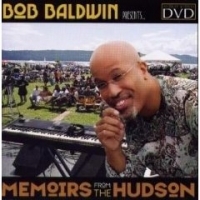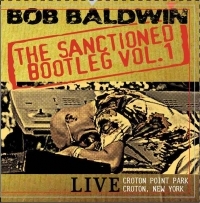 In Feb., 2008, he joins Radio-One as an on-air host for WJZZ in Atlanta. This was where he was able to execute "The NewUrbanJazz Lounge", which picks up stations, and starts to think "affiliates".
He is looking to expand NUJ into 2009, and during the process, decides to title his disc "NewUrbanJazz.com". After years of discussion, Baldwin and Najee collaborate on "My Cherie Amour". Baldwin also receives an accidental email from Jocelyn Brown and they re-unite and do their own renditon on "Somebody Elses' Guy". Brown is located in UK and they begin discussing dates there for 2009.
2 weeks before the release of the disc, CD101 flips format and that begins a series of other stations following suit throughout the East Coast.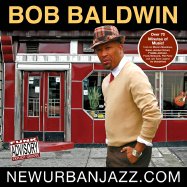 Launches NewUrbanJazz Radio in 2008 on October 1.


May 31, 2008
Robert G. Baldwin, Sr., the son of Bob Baldwin, Sr. passes away at the age of 82. Baldwin was a lifelong inspiration of the younger Baldwin. "May dad taught me some incredible things about life, love and commitment to a dream.
December 8
, 2008
Bob's Stepfather, Tuskegee Airman Albert L. Gaines, an incredible serviceman and family man, passes away at the age of 82. Another incredible blow to our family. He's missed daily and his contributions to the community and Westchester County are missed.
BB wins second SESAC music award for his songs from "NewUrbanJazz.com".
New Release coming this summer, documenting the path of BB's career, titled, Lookin' Back., which marks his 20th year anniversary as an Artist (1988 - 2008).
BB further develops "The NewUrbanJazz Lounge" radio format and begins to spread the show through HBCU's, Colleges and indie radio stations.
The journey continues.....



Bob Baldwin and Marion Meadows venture to Johannesburg for a 2nd time at the Standard Bank Joy of Jazz Festival. Releases a Tribute to Michael Jackson.

Garners his 3rd SESAC Award as the disc goes Top-10.


Performs tribute concert for the people of Haiti with "Jazz for Haiti" in Newark's Symphony Hall and "Westchester Musicians for "Haiti" in White Plains, NY, featuring local Jazz musicians from Westchester County, NY. Proceeds benefitted the Arthur Schweitzer Hospital in Port Au Prince, Haiti.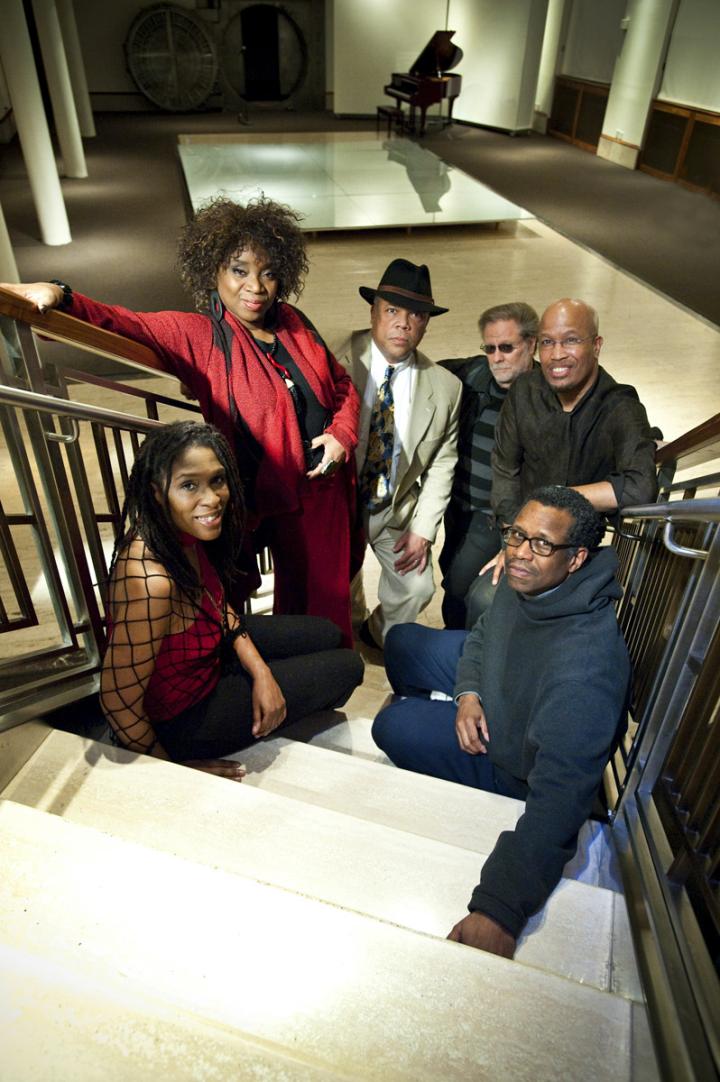 Music from the Thom Bell Tribute disc, which was co-produced by Grammy-Award winning Preston Glass. "Betcha By Golly Wow" featured Paul Taylor, Marion Meadows, Paul Brown, Ragan Whiteside and more.
Disc has helped him earn this 3rd SESAC Award

Album #20 prevails as "Twenty" logs 2 top-10 Radio hits, "Chameleon 3000" and "SeaBreeze". "Twenty also peaked at #3 on the Billboard Contemporary Jazz Charts.


In recording studio between performances in 2014, working on his 21st disc, as he works studio violin tracks. The tribute is a childhood idol tribute (living legend) project.

The result is the Stevie Wonder tribute, "MelloWonder / Songs in the Key of Steve", once again, charting on the Billboard top 20. Features childhood faves live "Don't You Worry 'Bout a Thing", "Superwoman", and "Love's Light in Flight". Record drops in June, 2015.